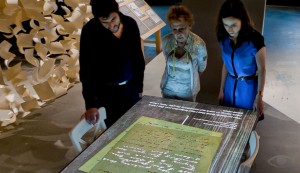 ---
The Society for Experiential Graphic Design (SEGD) has revealed the winners of its 2014 Design Awards. The winners illustrate how digital technology is becoming a common tool in placemaking and brand identity, wayfinding and signage, exhibition design, and public installations. "No longer are we restricted to one-way, static communications in the built environment," commented Alan Jacobson, 2014 Global Design Awards Chair and president and founder of Philadelphia-based experience design and strategy firm ex;it and J2 Design Partnership.
This year's winners range from digital extravaganzas like the LAX and MegaFaces projects to a museum exhibition focused on Brooklyn's famous Green-Wood Cemetery and wayfinding programs for the cities of Bath, England, and Brisbane, Australia. Design guidelines for San Francisco International Airport, a donor recognition project for the Sydney Theatre Company, and a wide range of exhibition, placemaking, and public installation projects were also recognized.
The jury led by Jacobson selected 32 winning projects, including a Best of Show for the first time ever. Eight received the program's highest recognition, Honor Awards. Twenty-three received Merit Awards and, for the first time ever, SEGD recognized a project with the inaugural Sylvia Harris Award, an annual recognition for a project that addresses accessibility of designs and enhancement of communication for projects in the public realm. The award was instituted in memory of Sylvia Harris, a long-time SEGD member and advocate for user-centered design.
by Levent Ozler
Source: Dexigner