Young entrepreneur Ben Towers employs 15 people at his digital agency start-up. Here, he talks to Startups about the challenges of life as a teenage entrepreneur and how to solve them…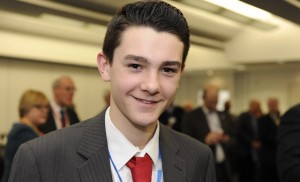 I started my first business aged 11, now 16 years old I hire a team of 15 and have worked with over 500 businesses to help them achieve their digital media goals (websites, graphics, hosting, branding, printing and SEO).
I am an ambassador for a number of organisations and a mentor to a handful of other young entrepreneurs.
These experiences have taught me that young people face several additional challenges when starting a business in comparison to most other entrepreneurs.
The important thing is to turn these challenges into opportunities and use them to spur you on.
Don't jump straight in
Firstly, when you're young and new in business it can be easy to get carried away and expect to become an 'industry leader' straight away. However, you need to think about what's practical logistically and take things one step at a time.
When I was first starting out I signed up between 30 and 40 contracts within one summer holiday because I wanted to stand out from my competitors. In retrospect this wasn't the best move and thankfully I managed to withdraw from these contracts without a large impact on my business – it's great to be enthusiastic and ambitious but it's important to try to avoid rash decisions.
Learn from your mistakes
For me, failure is not an option but I think you can't be afraid to make mistakes as an entrepreneur. In America they have an amazing way of thinking whereby entrepreneurs are not seen as successful until they have had some form of failure.
In the UK we tend to see failure as the 'end of business' but we need to realise that you can learn a lot from mistakes – in my opinion you certainly learn more from practical actions than you do from theory.
I find that young people are generally more buoyant and open to new changes and risks which can be a great strength of being a young entrepreneur. It can also have an adverse effect though and lead to young entrepreneurs taking on too much so make sure you get the balance right – you must walk before you can run.
Get the work/life balance right
For many young people, mixing business with education is extremely tough. Unlike other entrepreneurs we can't necessarily answer the phone during the day or go to an important meeting at the drop of the hat. At present I get home from school at around 4pm which means I only have 90 minutes of 'business hours' to make contact with clients and speak to people on the phone, otherwise it takes a day just to get a reply to an email.
However, it's important to remember to leave time to socialise and have time away from the business. Although this seems extremely tough it will actually lead to you being more productive when working – I have to perform a whole day's work in the space of a couple of hours which makes me extremely focused.
If you're starting a business while in education, make sure you have the backing of your school or college as a good amount of support can lead to excellent chances to excel and grow.
Overcome stereotypes and misconceptions
The hardest challenge for young entrepreneurs is tackling the common misconception that we "do not know what we are doing" or "will just muck around and waste your money". As a generation of young people we need to overcome this one way to achieve this is by being entrepreneurial and starting up businesses. We must, and can, show that we are more than capable of leading the world to a new era of business.
When I first started out I made sure that there was nothing about me or my age on my website as I felt it was a sale loser and would put potential clients off working with me. This belief stayed with me until very recently when I began to network with other entrepreneurs of all ages who were keen to hear my business story and how I started.
This gave me the confidence to publish details about myself online and amend my website to inform people that Towers Design was founded by a young entrepreneur. My sales have neither increased nor decreased so I'm happy with my decision. I personally run with the motto that "if they do not want to work with you then you do not want to work with them".
I constantly get people saying to me "why would a successful business owner want a 15 year old to build their website?" In some contexts I understand this but if the service I'm producing is of the same or better standard than my competitors, then why not?
Unfortunately, I have lost some very large contracts because of my age. I'm not going to mention the company but once they discovered my age I was swiftly sent an email saying the budget was cut and the contract would not continue. Although they were, and still are, industry leaders I now look at the company in a new light and am actually happy that I'm not working for them anymore.
Budding entrepreneurs need to understand that there are various challenges to starting up but as a young business owner your job is to overcome this and prove that your business acumen and abilities can match that of entrepreneurs older than you.
by Ben Towers
Source: startups.co.uk